CHAPTER THREE: SUPPORTING TEACHERS
Impact of COVID
Teacher shortages remain a critical problem. Teacher pipeline problems are exacerbated by state testing barriers for teacher licensure and inadequate financial aid for completing preparation. Teacher workload,burnout, and compensation are among the top major concerns that lead to resignation. Growing retirements and resignations further reduce the number of available teachers.
What is the current landscape for teachers?
Covid has made it so LAUSD teachers get almost more time with their students than before the pandemic. Kids come directly to their classrooms when they arrive at school and stay in their own classrooms all day. Teachers spend breaks sanitizing. They take their own students out for recess to limit contact with other classes. They contact trace after exposure. They arrange their room and change their instructional practices to keep kids as far apart as possible.
The pandemic has certainly presented teachers and students "uncharted territory to explore."
Sometimes these challenges have been joyful, but for many educators, the pandemic has been stressful. Teachers have taught kids virtually and in-person simultaneously. They learned new technology and used it as they learned it. They have fostered incredible community within their own classrooms. They are surviving a pandemic with their students and together they are building memories that will last a lifetime.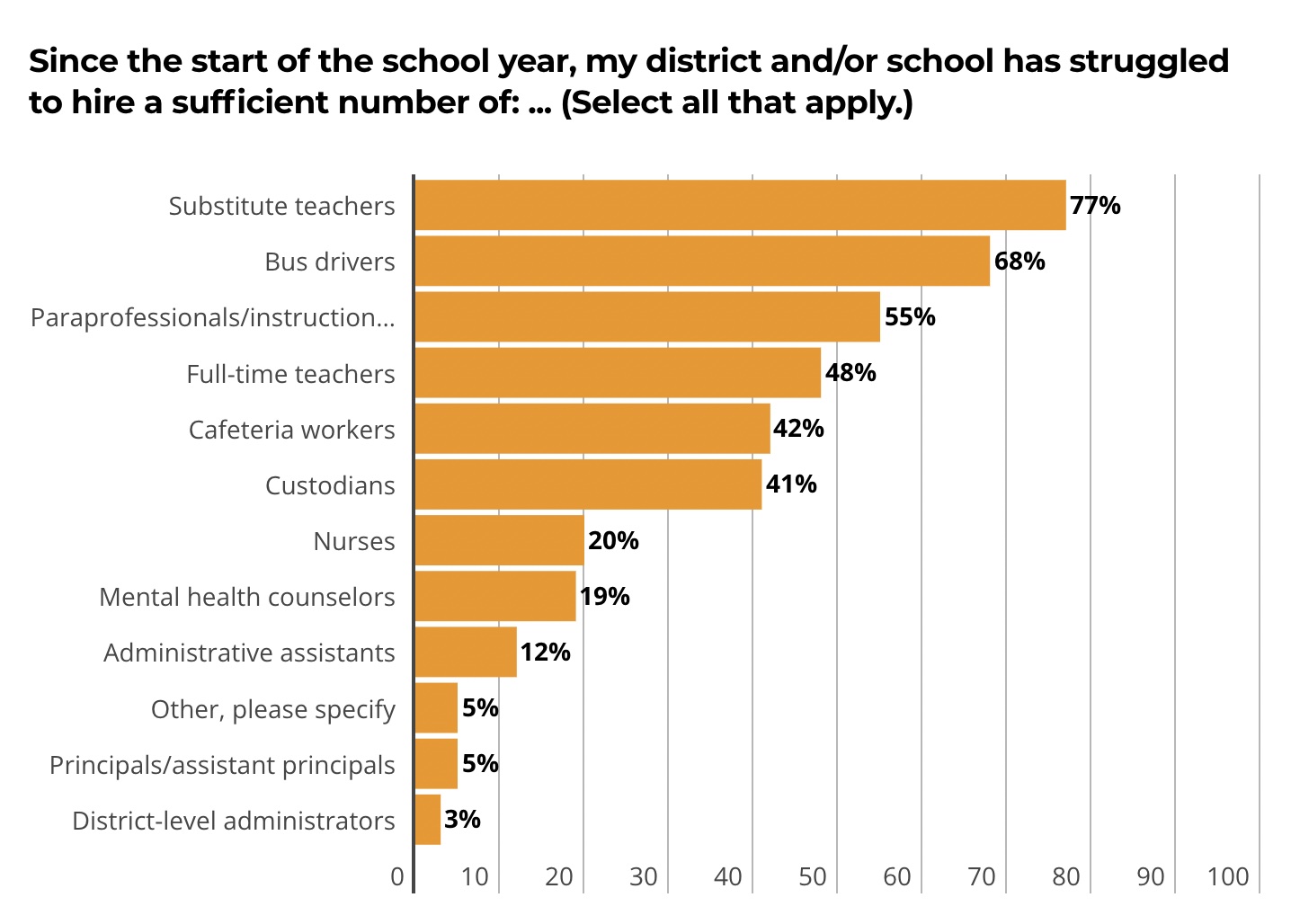 The Teaching Profession in Charts 2021
Myth: Teachers are compensated well for what they do.
Compared to other professionals with the same education and years of experience, the Economic Policy Institute estimates that the educator pay gap in California is 85¢ on the dollar. The national classroom teacher salary was estimated at $65,090 for the 2020-21 school year with the average starting teacher salary averaging around $41,163 for 2019-2020. Considering California's high cost of living, the current average starting salary here is $49,303 with the average salary at $84,531.
To put things in perspective, according to The U.S. Department of Housing and Urban Development and The U.S. Department of Health and Human Services Guidelines for 2021, a household of 1, earning $66,250 a year is considered to be in the low income level 1, while a household income of $41,400 for that same person living in Los Angeles County is considered very low income level 2. Now, imagine that a single mother of two just finished school and is a new teacher with a starting salary of $49,303. As a household of 3, this family living in LA County would be in the Extremely Low Income Level 3.
Where are resources going?
California schools receive the large majority of their funding from the State, primarily from income and sales tax revenues, but also from local property taxes that are collected at the local level and distributed by the State. The 1978 Proposition 13 limited local property taxes to 2% annual increases based on value of property and capped taxes on property purchased after 1979 to 1% of the purchased value. An important feature in this initiative was that it required all parcel tax measures to pass with a 2/3rds vote.
One of the greatest impacts to K-12 public school spending is the percentage of personal income that a state spends on education. From a peak of about 4.5% for the nation overall, and 4.0% for California, both peaking in the early 1970s, the nation overall as well as California spent declining percentages on public education in the decade from 1975-1985. For the longer period of 1970-2008, California has always spent a lower percentage than the rest of the nation on education. Furthermore, income and sales taxes are more volatile revenue sources than property taxes. California school districts therefore face dramatic cyclical funding variations as the economy rises and falls, as it recently has during the pandemic. Further, California's Governor and State Legislature, whose vote on the State Budget Act determines how State funds may be spent, have enormous control over the ability of local school districts to utilize funding to meet the specific needs of their students.
How does institutional racism play a part into what resources are available to teachers?
The 1978 Proposition 13 cap on property taxes has drastically impacted historically poor communities because even if gentrification occurs in their neighborhood with families of higher incomes coming in, the school does not get any more money than they were before because property taxes are capped.
Historically, the more affluent neighborhoods continue to get, the more funded they get, and those children receive a better education. While historically, the lower socioeconomic neighborhoods continue to receive low funding, which greatly affects the resources teachers have access to and children's overall education.
Charter schools: The idea of charter schools arose in the late 1980s and early '90s. They were originally conceived as teacher-run schools that would serve students struggling inside the traditional system and would operate outside the reach of the administrative bureaucracy and politicized big city school boards. Charters were seen as alternatives to large, struggling, comprehensive high schools. But, within a few years, some early supporters grew concerned that the charters and small specialty schools were creating tiers of schools serving decidedly different populations with unequal access. Teachers' union leaders also feared that charters were undercutting the power of their unions to bargain collectively over district wide concerns and policies.

"Pay per head": Schools get funding based on attendance rates, which is a disservice to low-come communities where families are more transient, parents are less likely to have reliable childcare or transportation to get the kids to school, and lack access to proper healthcare. The average student in the United States (K-12) misses 4.5 days per school year, this results in 164 million lost school days for students per year in the United States. The average spending per student is reported as $11,762 per year. Assuming a 180 day school year, the average student generates $65.34 a day in funding for the school district. Therefore the total loss of funding associated with student absenteeism each year is $10.7 billion dollars in the US. While illness is not the only reason students are absent, it is believed to be the main reason students are absent from school each day.
What are the community needs?
Currently, there is a huge need for educators. LAUSD alone reports 502 teaching vacancies at the start of 2021 compared to 113 in 2019.
The lack of educators combined with distanced learning has greatly affected the learning gap and students need support to get back on track. Although the pandemic's effects will be studied for many years to come, we know from early studies that for many students, the educational gaps that existed before the pandemic—in access, opportunities, achievement, and outcomes—are widening. And we can see already that many of these impacts are falling disproportionately on students who went into the pandemic with the greatest educational needs and fewest opportunities—many of them from historically marginalized and underserved groups. Volunteers are needed to help serve as additional resources for educators who are struggling to get students back on track.
How to take action
Volunteer
Support Reading Partners: Be a resource to educators by volunteering online to support the young kids read at their level
Contribute towards a drive that provides resources for educators
Advocate