CHAPTER FOUR: TUTORING + MENTORING
LAUSD Approves $2.6B - COVID Relief
As part of the American Rescue Plan Act the LAUSD Board approved an additional $2.57 billion in additional COVID-19 pandemic, an addition to the $2.27 billion in June bringing the total to: $4.8 billion for the Elementary and Secondary School Emergency Relief funds. These funds can be used for services and programs that address students' academic, social, emotional and mental health needs, opportunity gaps that existed before the pandemic (that have been exacerbated by it), and any pandemic-related health-and-safety measures.
However, the district has struggled to fill 6,000 positions (under the Path to Recovery plan for this school year) with more than 2,500 positions still unfilled. This plan will support 1,400 additional full-time positions as prescribed under this week's supplemental Path to Recovery plan. The plan will now be submitted to the Los Angeles County Office of Education for its review and approval and can be amended as needed.

What is "learning loss"?
"Learning loss" refers to the difference between what students would have learned in a normal year and what they learned during the pandemic.
Pre-pandemic, 56% of students didn't meet grade level standards in English, while 67% didn't meet standards in Math.
Throughout the pandemic, there has been significant learning loss in both English and Math, with students in earlier grades most affected. Furthermore, the equity impact is severe—certain student groups, especially low-income students and English language learners (ELLs), are falling behind more compared to others.
Intersection of Race and Learning Loss
Due to inequitable access to healthcare, income inequality, and disproportionate employment in high-risk, "essential" jobs, low-income, Black, and Latinx communities are suffering most from the health and economic impacts of the pandemic.
These inequities extend into the education sector. 2020 data suggested that educational disparities disproportionately affect Black, Latinx and Indigenous students, students from lower socioeconomic communities, and English-language learners. This will continue to have long-lasting impacts well into the future, and without support services.
Average learning loss estimates mask the reality that some students are suffering much more during this time than others. Without compassionate and bold actions from our government and community, these students might not catch up.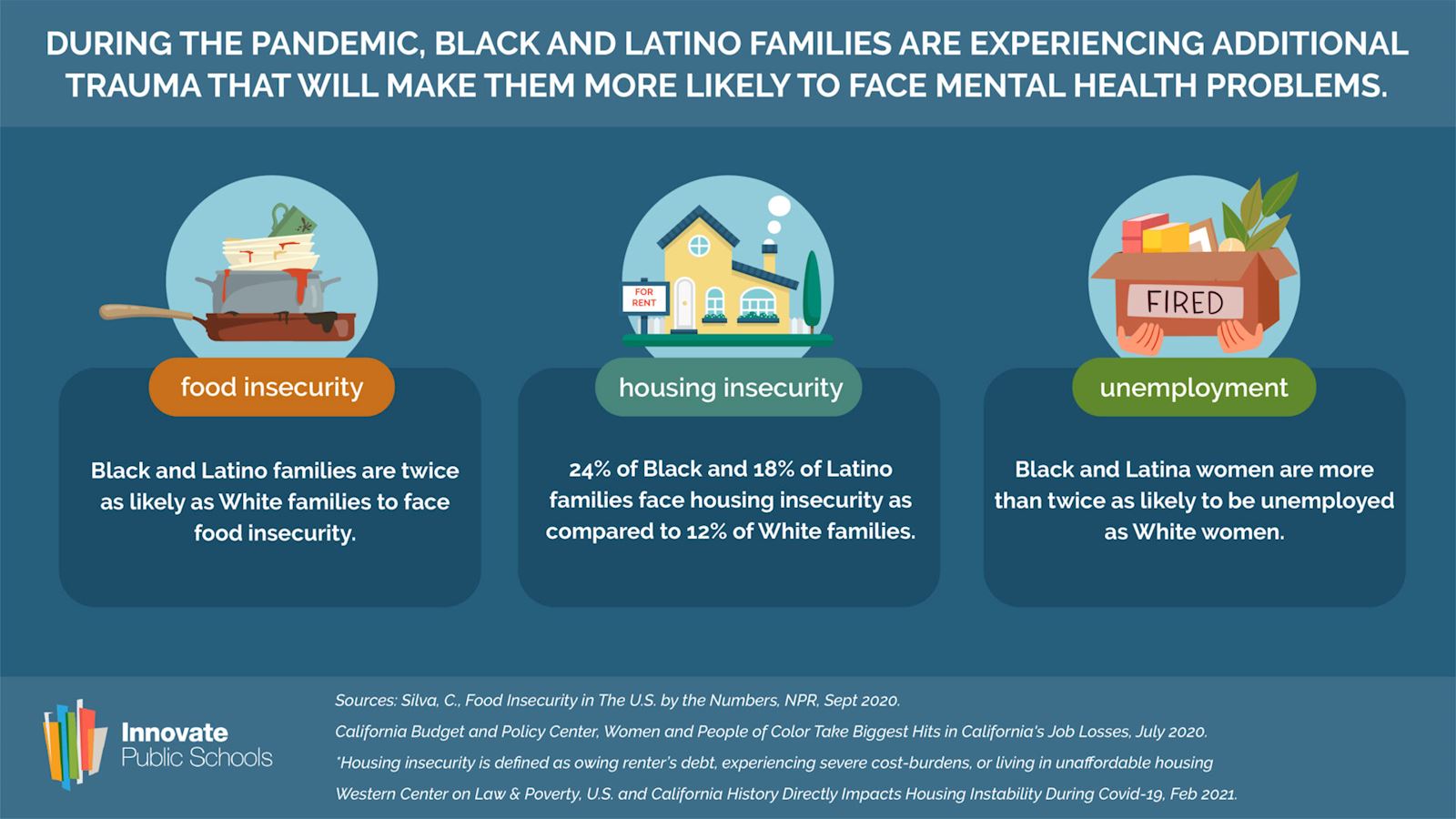 Tutoring and Mentoring
Fortunately, LAUSD's efforts to connect students to the internet has created the infrastructure for tutoring programs to address these inequities by bringing personalized instruction directly to any student who needs it.
Tutoring sessions in Los Angeles can cost upwards of $100 an hour. However, through outstanding non-profit programs like Step Up Tutoring, LAUSD students can access this vital one-on-one support. By training volunteer tutors that work in partnership with teachers and parents/guardians, tutoring programs add an important layer to the network of support for students. Thanks to programs like Step Up Tutoring, LAUSD students can access vital one-on-one support for no cost to the family or school.
However, this path to learning recovery will continue long after students are back in the classroom, as both academic and social and emotional learning has suffered. Thankfully Step Up Tutoring has a Memorandum of Understanding with LAUSD for the next four years, and can continue to support students' recovery and growth. This is made significantly easier through the support of volunteer tutors, and students can continue to rely on this network for years to come.
96% Tutor, Family and Teacher Satisfaction

88% of teachers believe Step Up has positively impacted academic efforts and progress of students
The social and emotional impact of this one-on-one connection is just as important as academic support, with the last two years contributing to rising rates of depression and anxiety. Having tutors work with students twice a week encourages confidence and strengthens students' safety nets.

---
Take Action: Volunteer
Online Tutor with Step Up Tutoring
Overview: With only a couple of hours a week in the evening, you can provide mentorship and emotional support to a student that will boost their confidence, improve academics, and increase classroom engagement. By becoming an online tutor for 3rd - 6th grade students who don't have the benefit of paid tutoring, your time can make a difference in their educational journeys.

Support Young Readers in their Literacy Skills with Reading Partners
Overview: Volunteer online to support the young Kinder through 2nd grade readers of L.A during the school day. You'll get to work one-on-one with students who are over half a year behind in literacy or more for 45 minutes at a time. Students need access to high-quality learning opportunities and the critical reading skills needed to prepare them for academic, social, and civic success & with your support, they will.

Mentor Youth in L.A. & Make a Lifelong Impact with KYCC
Overview: Help K-12th grade students complete their homework, guide them through projects and activities, support the instructors overall, and provide general administrative support to the afterschool program. There are various in-person roles with flexible schedules, you can check out & see how your service & skills best supports the youth in Koreatown.

Host a book drive or volunteer with The Book Truck (teens are especially encouraged to volunteer here)
Overview: The Book Truck teaches literacy skills, creating an intrinsic motivation to read. Through their innovative programming, The Book Truck gets teens who have never picked up a book to start reading. Every year, they give thousands of free books to foster care, people without housing, and low-income teens throughout Los Angeles County. This is made possible by volunteers who hold book drives & support the programming. The Book Truck will provide everything you need to make this a successful event within your community.
Step 2: Advocate

Educational Equity Toolkit (Civilrights.org)
Overview: Parents and local leaders must be at the forefront of advocating for equity and holding school systems accountable to ensure every child graduates high school college- and is career-ready. This toolkit was created to educate, equip, encourage, and empower you to advocate for greater education equity in your local community. It is designed to be used in conjunction with The Leadership Conference Education Fund's Grassroots Campaigns & Advocacy

Leadership for Educational Equity - Membership (National)
Overview: Leadership for Educational Equity (LEE) is a nonprofit leadership development organization inspiring and supporting a network of civic leaders to end the injustice of educational inequity. LEE works to develop and inspire members individually and collectively across all disciplines. When a diverse group of leaders, grounded in their experience working in schools and neighborhoods, are in leadership roles, they will serve as a transformative force for and with young people, communities, and the broader movement for educational equity.