CHAPTER SIX: SCHOOL BEAUTIFICATION
In just a few hours you can make a visible difference in your community by participating in beautification projects in and around schools in Los Angeles.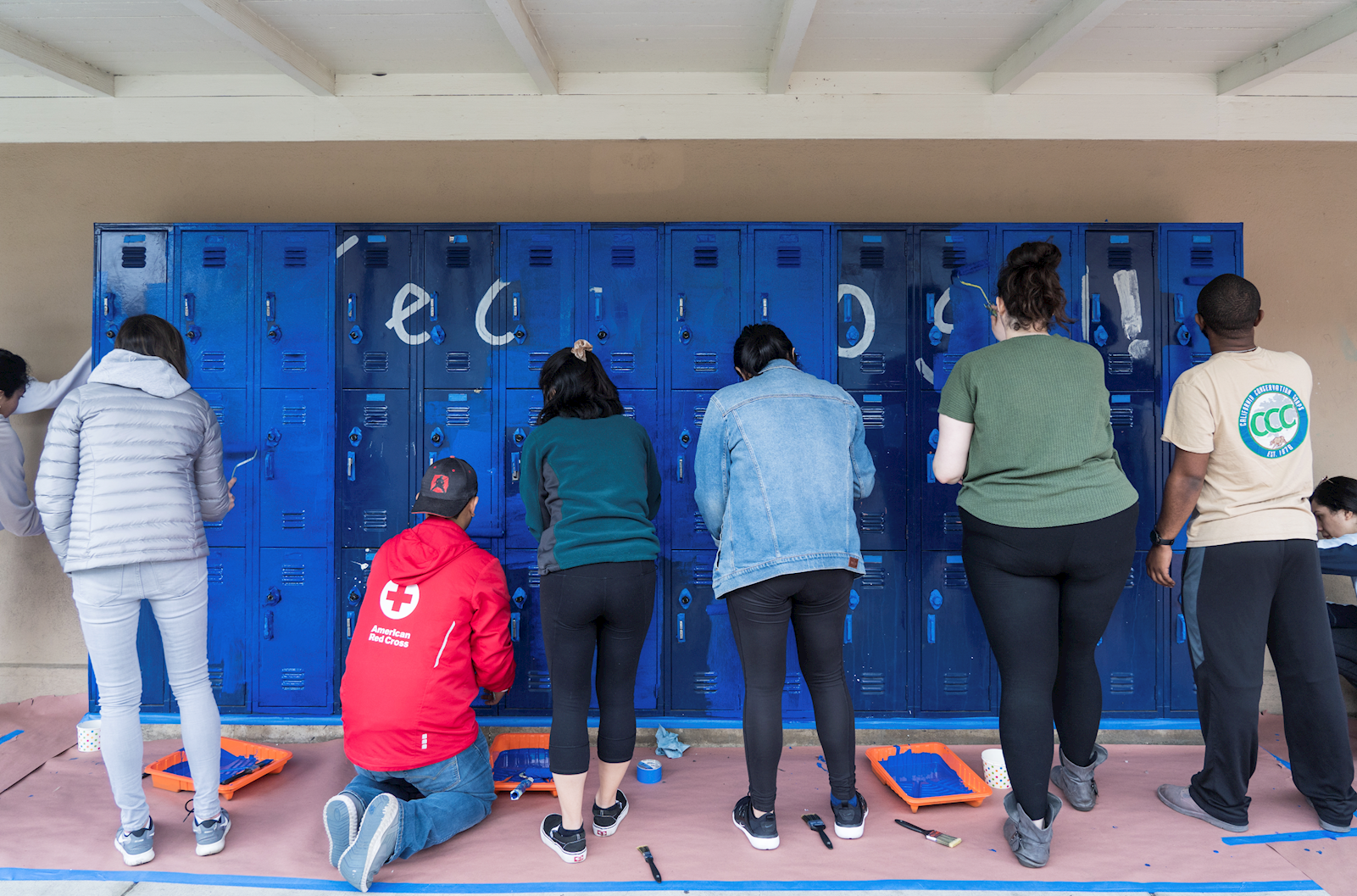 Overview: School Funding
School beautification support is needed most in districts where funding is lacking already to retrofit, upgrade, improve, or maintain the grounds of K-12 campuses. While each school and district have different needs, they (for the most part) have the same cause—funding, or rather a lack of.
Prior to the 1970's, California's schools were financed largely with property tax revenues within local school districts which led to drastic differences in funding across districts. A school district with very high property values could, and did, raise more revenue per student than one with a low property tax rate. California state legislatures attempted to reduce these differences by providing more state aid to districts with lower property values, but this did little to solve the problem.
State Legislation that has had huge impact
Proposition 13, passed in 1978, limited property tax rates to 1% of a property's assessed value at the time the property is sold.
This meant that, despite increasing property values over a length of time, the amount school districts and local communities are eligible to take in remains at a relatively constant level which only further entrenched the disparities between wealthy districts and poor ones. In an attempt to alleviate the impact to school districts, the state Legislature then shifted more state funding to schools to help establish a minimum funding level from State and local property taxes by passing:
Today, still as a consequence of Prop 13, the majority of funding for schools comes from income and sales tax revenue from the state. While this did help stem the financial woes from getting significantly worse, there are some arguments that the "fix" has led to more volatility.
Income and sales taxes can be more volatile sources of revenue than property taxes because both are tied to economic productivity, which is more susceptible to boom and bust cycles. This ultimately means less funds for schools as income tax revenue and sales tax revenue drop off. As a consequence of the volatility and limited funding from property taxes, State funding has an oversized part to play over local school district funding.
As of now, approximately 60 percent of all school district funds in California are for "general purpose funding," while the remaining 40 percent is restricted to specific purposes. While bond issues have become more popular in recent years, they require a fifty-five percent vote in favor to pass, and even then they are primarily reserved for buildings.
In short, California schools educate more students than any other state in the nation, and Los Angeles Unified School district is the second largest school district in the nation serving over 600,000 students.
Despite serving more students than any other state, drastically increasing funding for school districts in recent years and redirecting funds during the pandemic to aid over burdened schools, the state still spends less per student than the national average.
This lack of funding can be felt in many ways, but one way is the quality of the environment on campuses. Funding is primarily directed toward areas that include staff, books, buildings, amenities, and facilities, leaving some districts strapped for cash and unable to address the space the students occupy for the majority of their day.
The space students occupy has been linked to student performance in the classroom, and student involvement in extracurricular activities. Both of which are indicators of graduation rates, college acceptance, and overall well being in and out of the classroom. One way that we can all help is to dedicate a few hours a year to help improve the spaces in and around schools in Los Angeles.
Volunteers are Key to School Beautification
School beautification projects involve hundreds of volunteers to roll up their sleeves and paint, plant, landscape, and build as they work together to revitalize the grounds of local k-12 facilities.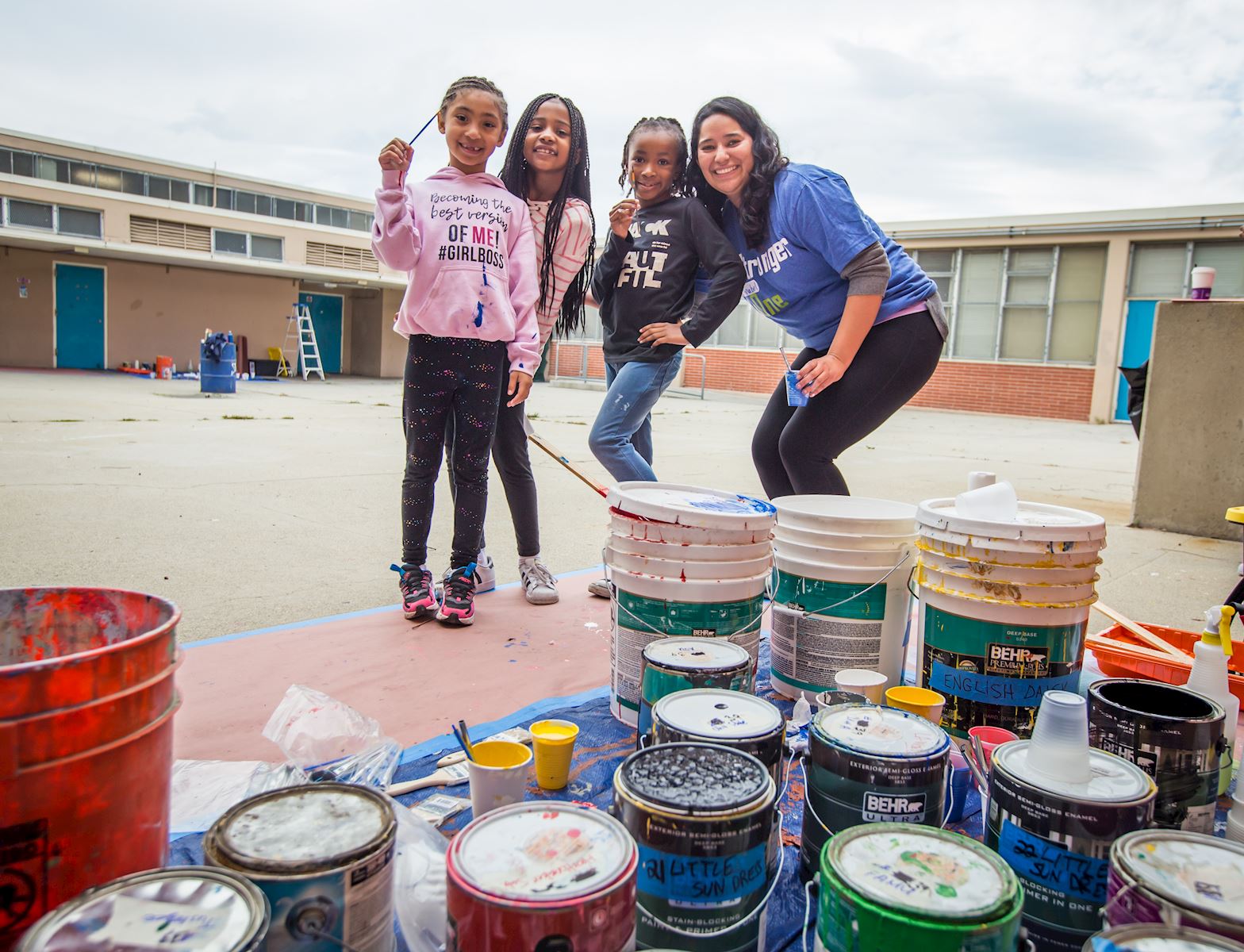 While each project can vary, some ideas include:
Painting, or refreshing, a mural or artwork around the school
Planting trees in and around campus to improve the greenscape for students
Building a playground
Landscaping fields, grounds, and entrances
This may sound daunting to those who have never participated in a school beautification before, but that is precisely where L.A. Works comes in.
Partnering with schools in need, staff and volunteers work to scout the location for a beautification project and gather the necessary supplies and equipment depending on the project.
Volunteer Roles
Once the logistics are sorted out, we need two kinds of volunteers: project leaders and general volunteers.
Project leaders sign up a month or two in advance to learn everything necessary for the task. Training and orientations typically take about two hours and will empower Project Leaders to lead a group of 10-20 volunteers the day of and teach the volunteers how to complete the project, ensure their safety, and guide them to their various locations to get the job done. If you would like to accomplish this at your school or empower others to get involved in their communities some steps we follow are:
Getting the community involved: The school has a wealth of resources, and the community already has a stake in the school performance so involve the community. Obtaining buy-in from those who either attend the school, or have students attending the school.
Obtaining Administrative Approval: No idea, however amazing in theory, can reach it's promise without the school's approval. A new playground, tree planting, and a community garden won't happen unless the school and/or district approve. So reach out to your local district and make sure the project is something they would be interested in having.
Establish a plan and purpose for the project: Tree planting, mural painting, and garden building sound simple enough but in order to maximise the volunteer project effectiveness we all need a plan. As the old saying goes: "a goal without a plan is just a wish." It's likely that you already have a base of volunteers eager to get involved, and you likely have more resources available than you initially thoughtso, make sure you utilize them!
Implement the project: Once the day of the beautification arrives, make sure every volunteer has a clear task and objective to accomplish, along with the tools to accomplish the project. If painting is necessary, equip the volunteers with paint, paintbrushes, aprons, masks, tape, etc. If building is necessary, along with supervision and training, equip the volunteers with the tools and supplies necessary.
Continue the work: It would be amazing if one and done projects were applicable in every situation, but the reason school beautification projects occur is because upkeep and maintenance takes time and effort over months and years. Have a plan to not only update the project as needed, but to build on previous projects and maintain what has already been done.
How to take action
Advocate
As elections roll around, keep in mind how the propositions and property tax rates directly impact LAUSD schools -- teachers, students, and their environment.
Volunteer