CHAPTER SEVEN: LIMITING/ELIMINATING SCHOOL POLICING
Overview: School Policing
In some school districts in California and across the nation, administrators are in charge of student discipline when issues arise in the classroom. Challenges in the classroom can arise from tardies, cell phone use, disruption during instruction, and a slurry of mundane issues that school counselors and administrators have to deal with including; on a bad day, fights among students. The consequences usually vary but often include some form of in school or after school detention, calls to parents, in or out of school suspension for severe cases, and even expulsion. However, this general example is no longer the norm across the country, and even less so in and around Los Angeles and Los Angeles Unified School District.
In school districts, teachers and policymakers are determining how to get more students back to in-person learning as safely as possible. Over several decades, police (also referred to as School Resource Officers (SRO), School Police Officers (SPO), or Campus Police) have become increasingly responsible in K-12 schools for replacing school administrators as disciplinarians. The purpose of these police officers is to form a partnership between school administrators and create a safer environment.
According to the DOJ, SROs are sworn law enforcement officers responsible for safety and crime prevention in schools and they have the ability to make arrests, respond to calls for service, and document incidents that occur within their jurisdiction. That same guidance also states that "while an SRO's primary responsibility is law enforcement, SROs should strive to employ non-punitive techniques when interacting with students." In other words, arrests should be used only as a last resort under very specific circumstances.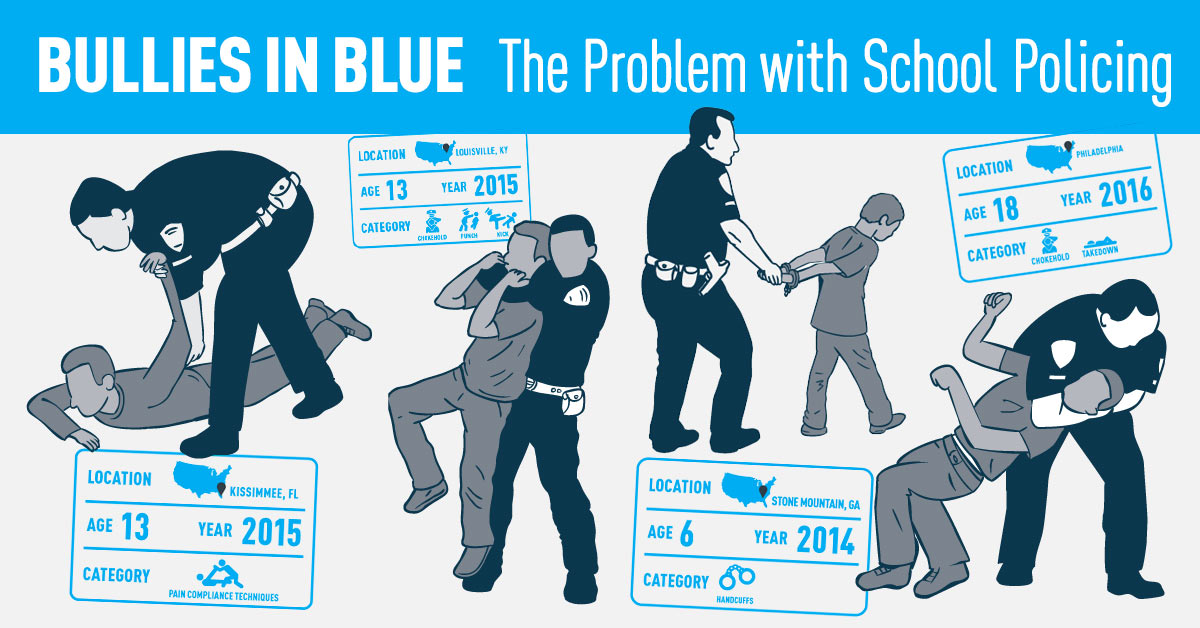 Increased reliance on SRP and SPO
Schools districts became more reliant on police presence on their campus beginning in 1999 in response to the school shooting at Columbine High School and also spawning the federal Community Oriented Policing Services in Schools Program (COPS). According to the National Association of School Resource Officers, estimates range between 14,000 and 20,000 SPOs in America's schools at any given time right before the pandemic and estimates suggest nearly $1 Billion dollars has been spent on School Police since 1999.
Despite this increase in funding for police on K-12 campuses, one in four students attend an SPO but no counselor, nurse, school psychologist, or social worker. The increase in police officers on campus occurred during an era of nationwide declines in juvenile crime and arrests indicates that it was either not necessary or counter productive.
This same time period saw the drastic increase of zero-tolerance policies—requiring schools to suspend or expel students for violating rules, no matter what extenuating circumstances there might have been; including behavior that school administrators historically addressed—which drove an increase in youth arrests and ushered in the "school-to-prison" pipeline.
Zero-tolerance policies disproporionately impact youth of color
These zero-tolerance policies disproportionately impacted youth of color by placing them in the justice system.
Black students' arrest rates are 7.4 times higher in schools with assigned law enforcement than in schools without.
Latine students' arrest rates are 6.9 times higher in schools with assigned law enforcement than in schools without.
Students with disabilities' arrest rates are 4.6 times higher in schools with assigned law enforcement than in schools without.
Police handcuffed 15.7 percent of all students stopped in response to calls for service and 27.1 percent of all Black students stopped in response to calls for service.
Police arrested only 12 percent of white students but 20 percent of Black students during stops.
Even in situations where arrests are not made, school police disproportionately arrest and cite Black students, Latino boys, and students with disabilities
Black students are three times more likely to be referred to law enforcement compared to white students.
Black girls are six percent of California's female student population but 18 percent of female student arrests.
Latino boys are 28 percent of California's students but 44 percent of student arrests.
Students with disabilities are 11 percent of California's students but 26 percent of student arrests.
Black and Latine boys with disabilities are five percent of California's students but 13 percent of referrals to law enforcement and 15 percent of school arrests.
These individuals are trained police officers that function like an arm of local law enforcement rather than counselors or other support services that provide essential resources to staff and students.
Time spent investigating minor offenses—offenses counselors and administrators used to handle—creates an environment where students are subjected to the criminal justice system for behavior that would not reach this threshold had it occurred outside of campus. In other words, School Police Officers are linked with increased arrests for noncriminal, youthful behavior.
Unlawful targeting
Locally, the Los Angeles Unified School District requires police officers to have a warrant or court order present before they can question a student. However, once police are called, their actions are often unlawful and target minority students, the ACLU said.
This same report states that 98 percent of California's school districts analyzed have failed to get parental consent before the police interviewed students and ninety-nine percent did not require officers to inform students of their constitutional rights.
Other options for school safety
There are ways to make students safe on campus and improve academic and social outcomes in K-12 schools without contributing to a school-to-prison pipeline. Some reforms include:
Connect before you correct
Utilizing the "Resource" in School Resource Officer
Limiting Roles and Responsibilities of police on campus
Eliminating funding for police in schools
Removing police from schools
Investing supports and services proven to contribute to safety
Train staff on Healing Centered practices that have to do with Trauma informed practices
Because of activists, student leaders, and parental and community involvement, school districts in Oakland, Los Angeles, Pomona, and Claremont, to name a few, have either eliminated or made progress towards eliminating school police on their campuses. The question at hand is: how do we make schools a safe and equitable place for students and staff alike?
Take Action
How do we address behavior challenges without punishment at the forefront?
Volunteer to serve on local committees in your neighborhood, run for your local school board, and even attend the meetings for your local school or school district.
Advocate
Attend a Los Angeles Unified School District Board of Education meeting to stay up-to-date with current policies and voice any concerns you may have.
Learn about current federal and state legislation, laws, and regulations regarding education by visiting the California Department of Education.
Want to contact your representatives about something else? You can find your state representatives here and other levels of government here and use this general template.