Let your true values shine by engaging the communities in which you live, work, and play
---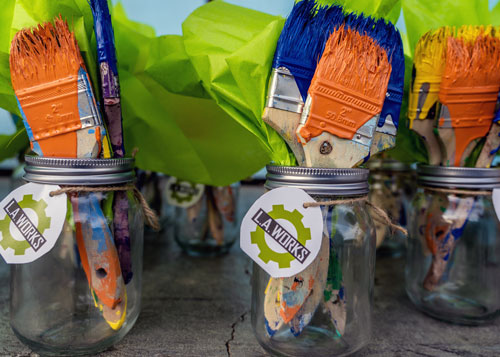 HOW DOES VOLUNTEERING HELP EMPLOYEES?
Forming a culture of volunteerism in your company improves your employee morale while helping others, according to a study from Deloitte. Social responsibility is highly valued by employees. Creating a purpose-driven workforce provides a meaningful way for employees to get to know eachother, gives them a chance to grow, and develops their professional skills.
HOW DOES VOLUNTEERING HELP COMPANIES?
70% of the employees surveyed by Deloitte said they are not volunteering as much as they hope to, nearly two-thirds of those citing one reason for that is they cannot dedicate any time during the day to volunteer.
Employees who volunteer give more time and effort to their jobs, are more willing to help out their colleagues, and talk more positively about their companies.
START MAKING A MEANINGFUL IMPACT
Ready to connect your company and colleagues to service in the community? Email: stephen@laworks.com
---
Reviews from Corporate Partners
"Virtually volunteering through L.A. Works to mentor students from underprivileged communities was one of the highlights of my year, COVID is a tough time, these communities feel it more than others, so being able to build up someone's confidence thought a few words of encouragement and smile has a significant impact on these HS seniors striving towards college." Salma Zahr, UBS Wealth Management
"It's really awesome to have these moments, and while I'm proud to work somewhere that offers these types of opportunities, I am equally grateful for L.A. Works; we couldn't do it without y'all's help." Danielle Wiggins, Guthy|Renker
"Activision Blizzard's ongoing partnership with L.A. Works has given our employees amazing opportunities to support veterans, military and military families. From summer intern activations to our annual Veterans Day of Service each November with hundreds of participants across the city, L.A. Works creates memorable experiences for our company volunteers." CSR Lead, Activision
"SO enjoyable! This was a super lovely project. So glad I was able to participate! Such a soothing, fun, creative project that will hopefully bring lots of joy!" Volunteer, Netflix
---
What We Do Best
Nonprofit partner/beneficiary selection and coordination
Project design and management
Supply procurement
Contracting skilled labor or expert speakers
Training employees as leaders (if needed)
Day of event leadership
Donation distribution
End-to-end logistics for your event
Please note that our services are fee-based. Your contributions help to underwrite the costs of our team's time and expertise in organizing, managing, and leading your volunteer experiences. We have several options for those unable to pay – please contact us so we can work around your budget!
Questions?
Stephen Davalos, VP of External Affairs : stephen@laworks.com