Description
Quick Overview: Join us to learn about two organizations serving vulnerable populations, especially children, across LA County.
Mission or Broader Program Description:
A Court Appointed Special Advocate (CASA) volunteer makes a difference for children in the child welfare system. CASA volunteers are paired to work one-on-one with a child to ensure they have the things that all children need: a home, an education, and healthcare. There are 30,000 children and youth who have experienced abuse and neglect in LA. Many need the support of a CASA volunteer.
Imagine LA is a nonprofit that breaks the cycle of family poverty and neglect in Los Angeles County through the power of mentoring. Our teams of professional case managers and volunteer mentors work together with vulnerable families. With the team's support, parents and children build relationships, set goals, learn skills to be successful, stay in housing, and thrive.
Impact: Learn about how you can make a lasting impact on the lives of children in the dependency system and families exiting homelessness through mentoring and volunteering as a CASA Advocate.
Volunteer Roles and Responsibilities: This in-person information session lasts about 90-minutes. A staff person provides information about the role and responsibilities of the long-term volunteer positions at both CASA and Imagine LA and a current volunteer will share their experience and answers questions.
Requirements: Volunteers must be over the age of 21.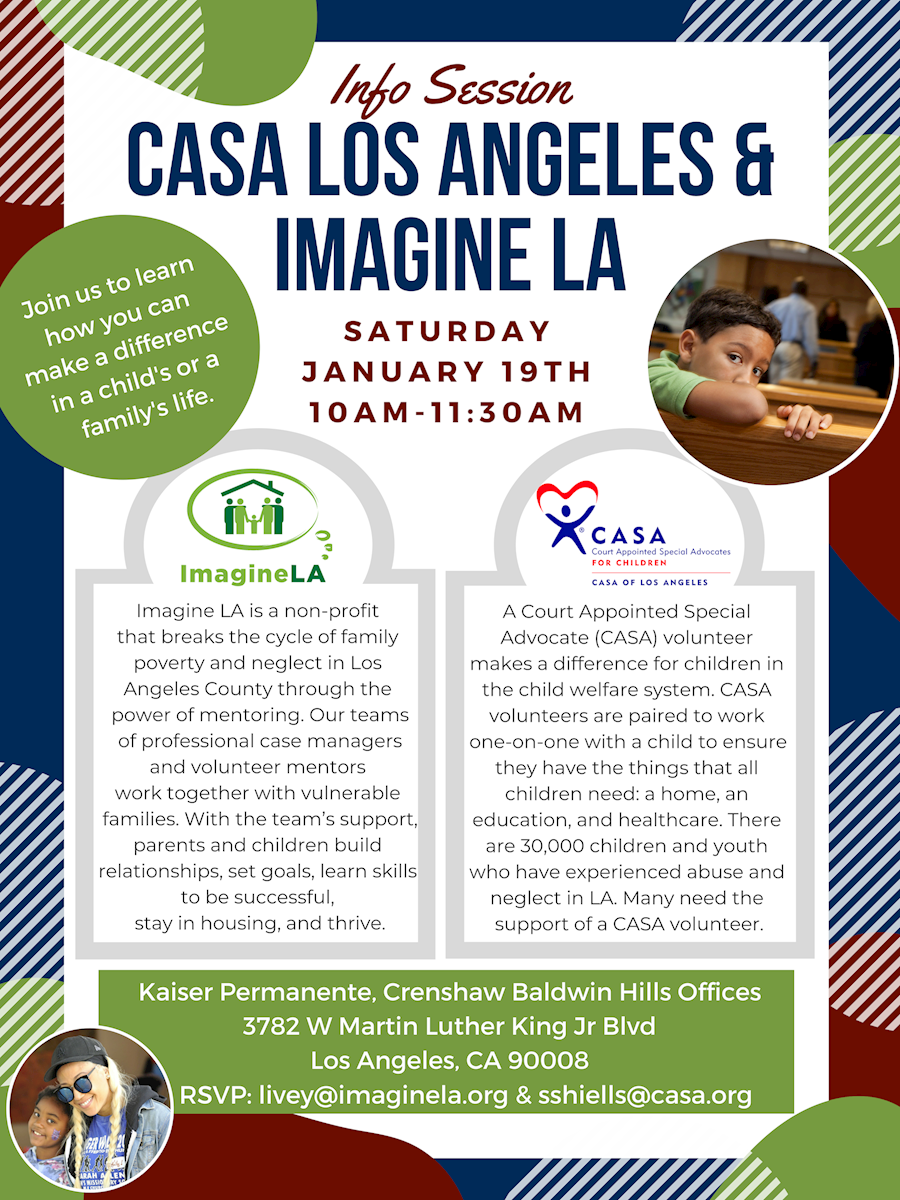 Volunteer Roles & Responsibilities
Issue Area(s): Family Services
Please wait...
Login or Register
In order to register for this opportunity you must login to an existing account or register to create a new account.
Signup with team
This link allows you to participate in this opportunity with a team. When you click on the link you will have the option to:
Choose an existing team you're already a member or captain of, or
Create a new team to sign up.
Signup Questions
Please respond to the following questions in order to signup for this opportunity:
Please wait...
E-mail