Hunger & Homelessness, Adult Education
Help Homeless College Students!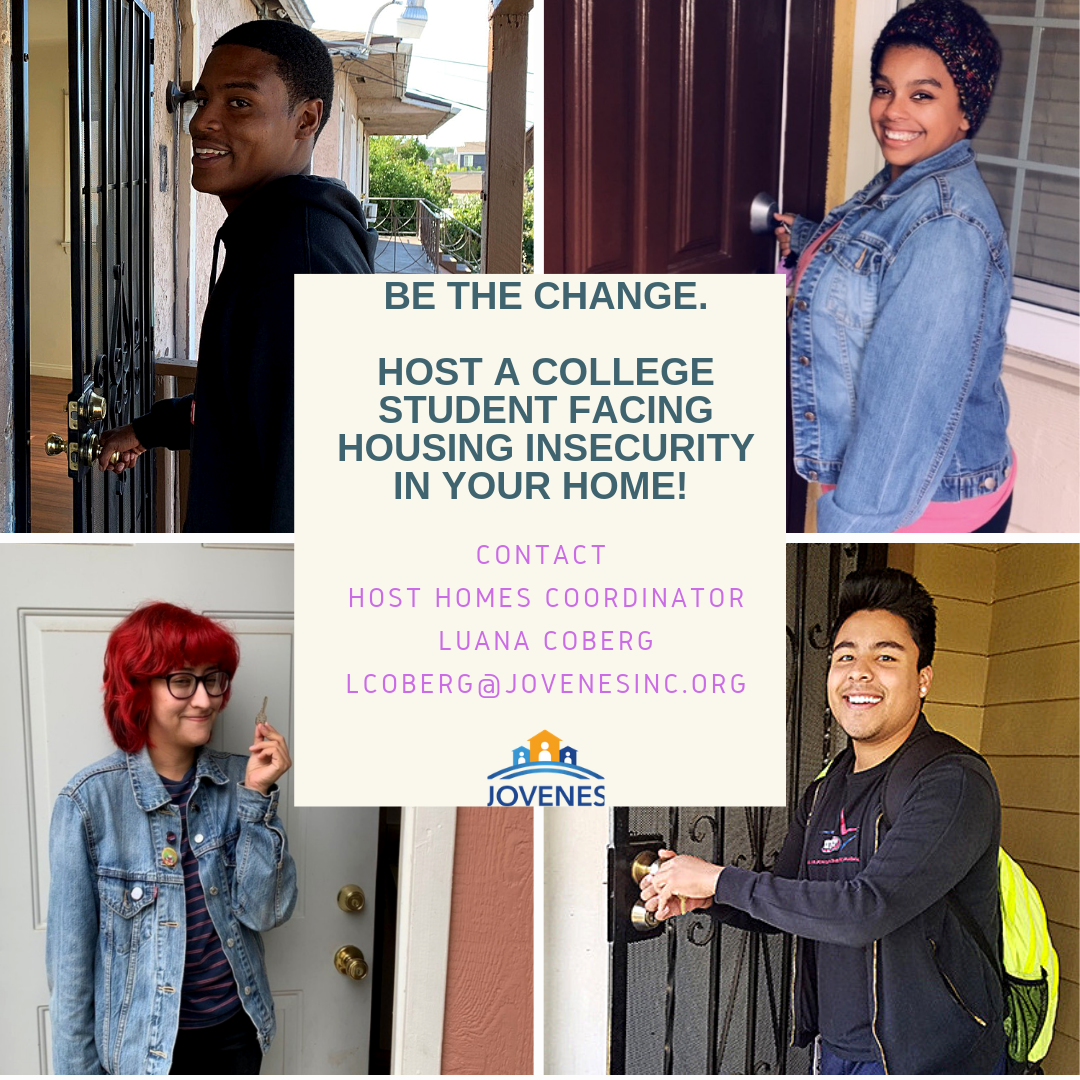 Quick Overview: Members of the community who have a spare bedroom volunteer to open their homes to college students (ages 18-24) experiencing housing insecurities for up to 6 months.
Mission or Broader Program Description: The Host Homes Program is an innovative approach to addressing our community's homelessness crisis. Jovenes' Host Homes program utilizes individuals or families in LA County who volunteer to open their homes for up to 6 months to college students (ages 18-24) experiencing housing insecurities. By pairing youth with community members who have a spare bedroom in their homes, youth not only obtain access to short-term shelter but are also able to build meaningful connections to caring adults in their community. While participating in the program, students will have a case manager and receive supportive services to help them meet goals related to academics, employment, permanent housing, and social and emotional well-being. Hosts receive training and attend hosts events, as well as an optional monthly stipend of up to $500.
Impact: By hosting a youth, you will help homeless youth feel safe, cared for, empowered and give them the opportunity to get their foot in the door. You are first-handedly making an impact on a youth's life! Please click the following link to watch how the Host Home Program impacted the lives of youth: https://vimeo.com/294417746
Volunteer Roles and Responsibilities: Hosts are expected to provide a welcoming, stable, and secure living environment for youth. Hosts are expected to respect the rights, privacy, culture and background of youth, including their religious and political beliefs. Host must also attend an initial 1 hour Host Orientation Training as well as attend a minimum of 3 host events throughout their time of hosting.
Requirements:
Host is 25+ years old;
Host lives in LA County, preferably near East or Southeast Los Angeles;
Host provides a bedroom or private space, access to shared/private bathroom, access to a kitchen in which youth can prepare meals and store food
Host has or is willing to get homeowners/renters insurance (must provide proof to Jovenes' Host Homes program staff)
Host commits to hosting youth for at least 3-6 months and attend at least 3 trainings and/or host events during their time of hosting
Host passes a background check
Host completes an application, interviews, house inspection, and agrees to Host-Youth contract that discusses house rules, boundaries, and expectations for the youth that is coming into the home.
If you would like to apply to be a host, please fill out our HOST HOME FORM
or contact Host Coordinator, Luana Coberg, at Lcoberg@jovenesinc.org
Please wait...
Log in or Register
In order to register for this opportunity you must log in to an existing account or register to create a new account.
Signup with team
This link allows you to participate in this opportunity with a team. When you click on the link you will have the option to:
Choose an existing team you're already a member or captain of, or
Create a new team to sign up.
Signup Questions
Please respond to the following questions in order to signup for this opportunity:
Please wait...
E-mail