October 2019 Community Garden Day
Join us for October's Community Garden Day, held at our beautiful 1.5 acre garden at 24th Street Elementary School! With your help, we'll spend the morning beautifying our 1.5 acre garden by weeding, mulching, watering, planting seeds, and more. October's CGD will also feature fun activities for the whole family including an interactive cooking demo, educational harvesting session, and plenty of arts and crafts. We'll also share a healthy lunch together in the garden prepared by our student chefs.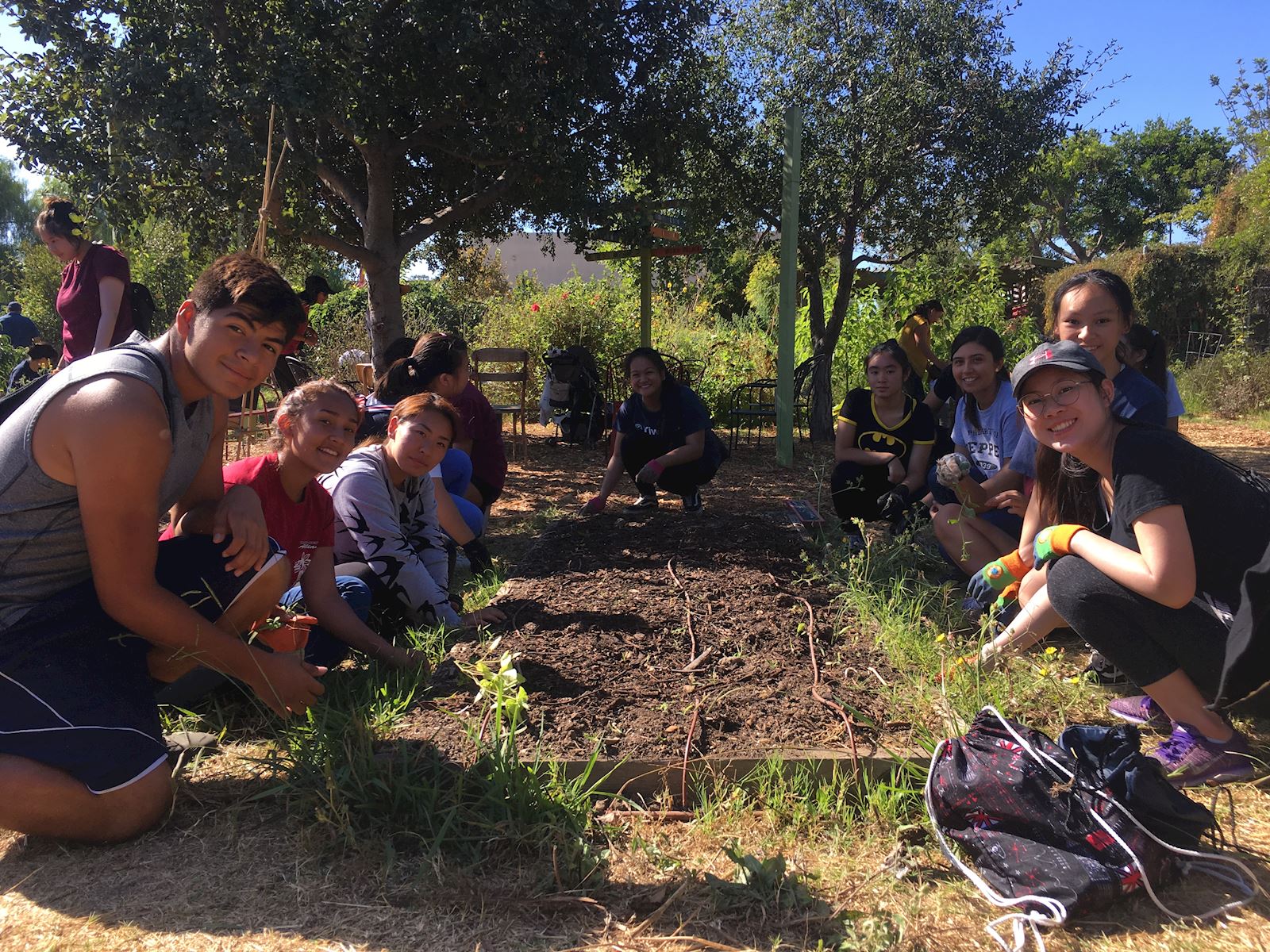 Garden School Foundation's Mission
Garden School Foundation provides in-depth garden-based learning to youth at Title 1 schools in Los Angeles, strengthening connections between education, food justice, environmental awareness, and healthy communities.
By using the full transformative potential of school gardens as teaching sites, we nurture a healthy and mindful generation of children that care for their bodies, their communities, and the earth. We currently serve seven Title I elementary schools, reaching over 3,000 students and their families each year.


Your Impact as a GSF Volunteer
Our volunteers play a vital role in the work that we do at GSF. Your volunteer efforts help keep our gardens beautiful and edible through the school year. Your hard work makes it possible for our students to enjoy the garden and harvest herbs and veggies year round for cooking classes. Our volunteers not only enhance the educational experience of our students but also help share the magical world of gardening with kids and their families across LA.


Volunteer Requirements
Volunteers should wear close toe shoes and loose, comfy clothes that are school appropriate. We encourage volunteers to bring their own water bottle and sunscreen. We'll provide light refreshments and all necessary tools and supplies. You don't need any gardening experience to participate - just a willingness to get dig in and get those hands dirty!
* Any volunteer under the age of 18 will need to bring and have signed by a parent/guardian a Volunteer Agreement & Release for Minors. The form can be found on L.A. Works website Q&A section.
Parking and Garden Location
The school is located at 2055 W 24th St, Los Angeles, CA 90018 (there are multiple schools on W. 24th St. but we're the one furthest to the East, so closest to Western Ave.) There is ample street parking in front of the school or you can park in the small gated school parking lot, which will be open, just to the right (or East) of the school's front entrance. Either way, walk into this school parking lot to the right of the school's front entrance, continue toward the back of the lot, and enter the open chain link pedestrian gate on the left. Our garden is all the way in the back of this large campus, behind school buildings, and not visible from the parking lot gate.
Please wait...
Log in or Register
In order to register for this opportunity you must log in to an existing account or register to create a new account.
Signup with team
This link allows you to participate in this opportunity with a team. When you click on the link you will have the option to:
Choose an existing team you're already a member or captain of, or
Create a new team to sign up.
Signup Questions
Please respond to the following questions in order to signup for this opportunity:
Please wait...
E-mail