FAMILIES ACTIVE IN VOLUNTEER ENRICHMENT
JOIN FAVE HERE • THIS MONTH'S PROJECT • PAST PROJECTS • BUY PROJECT KIT • EVENT CALENDAR
---
July 2022 Project: No-Sew Baby Blankets
WHAT WE'LL DO
We are making cozy baby blankets for infants. No sewing is required!
---
JOIN US VIRTUALLY ON ZOOM!
COMPLETE THE PROJECT AT HOME ON YOUR OWN SCHEDULE
Order and complete a kit at home and mail or drop off your finished blankets
Buy the supplies yourself using the purchase list and instructions to complete the blankets and mail or drop off your finished blankets
HOW TO SIGN UP
All participants must register as a FAVE Fam member here (free memberships available!)
This event is open to all FAVE members–FAVE fam members will have kits mailed to them, other members can purchase their own supplies from the purchase list or order a kit
Sign up here for the Zoom event (event details will be emailed after registration)
Please email shayn@laworks.com with any questions
Drop off or return finished kits before August 14th!
Contact Shayn@laworks.com for dropoff or mailing arrangements
YOUR IMPACT
These baby blankets will go to our non-profit partner Community's Child, a residential living program open to unhoused, single mothers with an infant under the age of one.
UNDERSTANDING THE IMPACT OF HOMELESSNESS ON WOMEN AND CHILDREN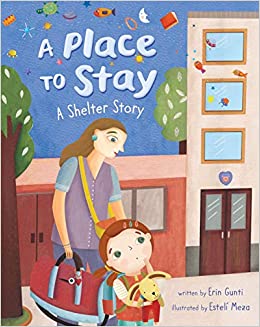 Explore our educational resources about homelessness and children:
Before you begin exploring the resources on this page, ask your children what home means to them and share what home means to you. Try to imagine with them what it means to be unhoused and not have a place of your own. Unhoused means that families may be on the street, but often it means couch surfing or living in a shelter.
Here is a read aloud of the childrens' book A Place to Stay by Erin Gunti
"This simple, touching picture book shows readers a women's shelter through the eyes of a young girl, who, with her mother's help, uses her imagination to overcome her anxiety and adjust. Includes factual endnotes detailing various reasons people experience homelessness and the resources available to help." -Publisher's website
Watch here: A Place to Stay A Shelter Story


Explore More Resources
---
READY TO SEND YOUR KIT? • Project Due: 8/14/22
Option 1: Drop Off or Mail Kit to L.A. Works
Drop off or Ship to: 570 W. Avenue 26 Suite 400, Los Angeles CA 90065 (Attn: Shayn Ferriolo)

Office hours if you're dropping your kit off : Monday - Friday 10:00 AM - 5:00 PM

*Note: We are located at the Los Angeles River Center and Gardens. Our offices are inside the big white warehouse building, enter where it says "Studio Arts" and find the door that says L.A. Works. If no one is there, leave it on the wooden bench by the door with Attn: Shayn Ferriolo.
Option 2: Drop off in Hermosa Beach
Drop off anytime, email shayn@laworks.com for the address.
If neither of these options works for you, please reach out! We'll do our best to sort a pick-up or alternative. Email Shayn@laworks.com
THANKS FOR BEING AWESOME!